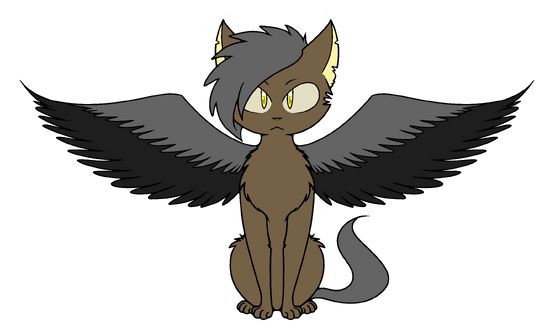 NAME) Klay [S.A#16]
GENDER) Male
AGE) Raggling
SPECIES) Shadow Angel
ELEMENT/TYPE) ground
POWERS/ABILITIES) Rock Summoning
PARENTS) None
SIBLINGS/CLONES) None
MATE) None
KITTLINGS) None
---
Klay is the 16th Shadow Angel to be created. He has brown fur with a gray tuft of hair on his head along with a grey tail. His eyes are yellow and his wings are grey.
Klay is a kind soul with a friendly personality. It is a shame however that such a kind feline could have been put through such torture in the past. Klay seems to have been traumatized from his torturous experience in the laboratory. He was a body testing Shadow Angel and was operated on many times. Klays claws had been taken out along with a few of his internal organs. He had been poked with needles so many times that he had eventually gotten use to the constant pain. He still has nightmares of the laboratory.
Ad blocker interference detected!
Wikia is a free-to-use site that makes money from advertising. We have a modified experience for viewers using ad blockers

Wikia is not accessible if you've made further modifications. Remove the custom ad blocker rule(s) and the page will load as expected.